Curriculum – Literacy Resources
Literacy is central to First Nations, Métis and Inuit world views, yet also transcends culture to shed light on universal experience. Through stories, song, art and its many forms, literacy shapes the knowledge, the protocols and rules specific to the First Nations, Métis and Inuit cultures and communities.
Literacy has traditionally empowered the spirit by affirming the uniqueness of the First Nations, Métis and Inuit cultures and the interconnectedness of all aspects of creation.
Select a Professional Learning Focus
In the Empowering the Spirit video series, literacy is explored through storytelling as a way of sharing culture and values, understanding ourselves and others, and as an important form for expressing personal voice and connecting to others.
A collaborative partnership between Northlands School Division, Edmonton Public School Division and Alberta Education developed the Literacy Seed Kit. The 76-book collection was created as a travelling classroom library to support the need for culturally relevant resources. Like a seed, it is meant to grow and expand depending on local conditions. The collection contains fiction and non-fiction books in a wide range of genres.
The Indigenous Literature Kit: Growing Our Collective Understanding of Truth and Reconciliation is a collaborative professional learning project developed by Greater St. Albert Catholic Schools and the St. Albert-Sturgeon Regional Collaborative Service Delivery region, and supported by the Edmonton Regional Learning Consortium. This kit is a professional learning resource that supports educators to grow in their collective understanding of Truth and Reconciliation. The project started with titles from the Literacy Seed Kit and added new titles that advance First Nations, Métis and Inuit foundational knowledge.
This collection provides a wide range of literature for all grade levels that supports the development of awareness and understandings about First Nations, Métis and Inuit histories, perspectives and ways of knowing, as well as student learning about the topic of residential schools.
This two part webinar series is about the book Fatty Legs, which includes meeting the author of the book and her mother-in-law (about whom the book is about) and a teacher who has used the book with her grade seven classroom. You will learn about the origin of the book and how it can be used to support student learning about the topic of residential schools.
Other Supporting Resources
The learning guide focuses on key promising practices related to First Nations, Métis and Inuit literacy and numeracy learning, from First Nations, Métis and Inuit perspectives. This learning guide is designed for use by instructional leaders and learning communities or as a self-paced study. The resource provides a link to the Empowering the Spirit website that viewers are encouraged to explore. Key understandings from the website are provided along with questions for reflection and discussion.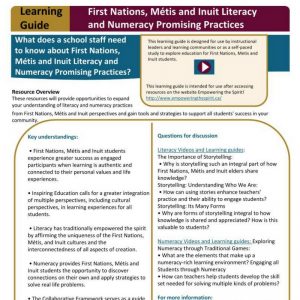 Jason Ohler explores how oral and written storytelling, as well as storytelling using digital and art skills, are involved in the creation of digital stories, and how all these literacies and forms of storytelling can reinforce each other.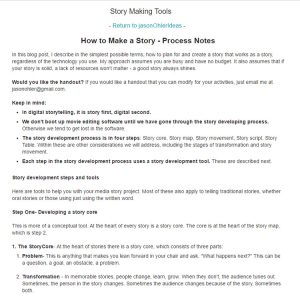 The First Nations, Métis, and Inuit Collection is maintained by the First Nations, Métis and Inuit Education team, Edmonton Public Schools. The annotated bibliography represents the diversity of First Nations, Métis and Inuit cultures across Canada and some areas of the United States. Titles are reviewed through an educational lens as well as by a member of the First Nations, Métis and Inuit community. The database includes titles published since 2002. Titles published prior to 2002 that are considered valuable additions to collections are included and therefore recommended. Titles considered popular may contain objectionable content that is laid out in the review with the recommendation to weed the title from the collection. New titles are continually added to the collection.
The wiki contains links to presentations made on May 16 and 17, 2012, during the Empowering the Spirit Forum at the Mariott at the River Cree Resort in Edmonton. The two day forum provided participants with the opportunity to:
learn from literacy and numeracy leaders
expand their understanding of literacy and numeracy practices from First Nations, Métis and Inuit perspectives
gain tools and strategies to support First Nations, Métis and Inuit student success