Reconciliation
An understanding of the policies and legislation between the Crown and First Nations, Métis and Inuit advances the process of reconciliation and involves the following terms, concepts and knowledge.
Policy and Legislation
First Nations

Reserves
Pass system
Forced relocations
Indian Act (and all amendments to the act over time that have since been repealed)
Constitution Act

Métis

Métis Nation of Alberta
Metis Settlements
Métis Scrip
Forced relocation

Inuit

Inuit Identification "Tag" system
Project Surname
Inuit Land claims
Forced relocation
Awareness and knowledge of First Nations, Métis and Inuit beliefs, traditions and practices to advance reconciliation involves the following terms, concepts and knowledge.
All Albertans will advance reconciliation by understanding the significance of cultural revitalization of First Nations, Métis and Inuit as supported by the Truth and Reconciliation Commission of Canada Calls to Action and United Nations Declaration of the Rights of Indigenous People.
Protocols (i.e., accessing the wisdom of Elders, Advisors and involving community; gifting)
Reciprocity
Oral tradition
Linguistic diversity and language revitalization
Symbolism
Ceremony
Stewardship and sustainability
Rematriation
Connection to land
Spirituality
Roles and responsibilities of women, men and children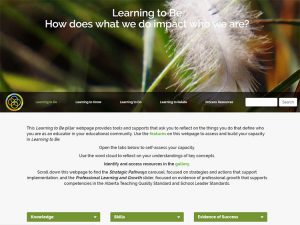 The First Nations, Métis and Inuit Professional Learning website provides educators with supports and tools to design and facilitate professional learning. It offers curricular resources that build capacity, engage learners and build paths toward reconciliation through education.
The Learning to Be pillar webpage provides a wide range of professional tools and supports that ask you to reflect on the things you do that define who you are as an educator in your educational community. This webpage includes features to help you self-assess your capacity and a photo resource gallery with numerous links to sources, websites and resources, including the Truth and Reconciliation Commission.
Conversation Guides
Supporting Resources
The Reconciliation Canada website provides programs, initiatives and resources to inspire positive change in communities throughout Canada. Born from the vision of Chief Dr. Robert Joseph, Gwawaenuk Elder, Reconciliation Canada is leading the way in engaging Canadians in dialogue and transformative experiences that revitalize the relationships among Indigenous peoples and all Canadians.